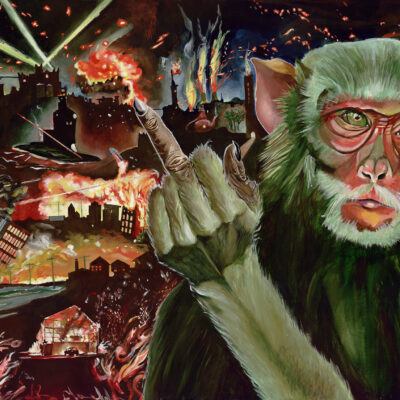 Links
Marc Démereau: saxophones, keybord, voice
Nathanaël Renoux: trumpet
Fabien Duscombs: drums
Mathias Imbert: double bass
Cover paintings: Marc Démereau
Rhésus Machin
Le Tigre des Platanes
Mr Morezon 036 / 19th of April 2024
The apocalypse is never far away in the universe of Le Tigre des Platanes. That's what gives their music that feel of an urge for a clash, of a cry that makes its way through the noise of bombs, or an island of irreducible pleasure-seekers in conversation with the inaccessible complexity of the world they haven't finished taming.
With Rhésus Machin, this indomitable animal whistles decidedly punk jazz. If sometimes he does it with humour (the animal is playful) and even if he can indulge in caresses (the animal is sentimental), first and foremost he has the soul of a wild animal, and the composition, free of any predefined rules, apart from a few mathematical formulas not yet solved that are at the service of his four musicians, like the four cardinal points that the beast swallows at once, because the animal is ferocious, greedy and lively.
Le Tigre des Platanes' current repertoire is largely made up of personal and (very) original compositions (of Marc Démereau and Mathias Imbert).
There are a few reworkings in this opus, paying tribute to the hot European free jazz scene of the 70s (Misha Mengelberg, Willem Breuker), or to musicians who died recently (Julee Cruise and Angelo Badalamenti).
Missing in this album, a recorded tribute to the much-lamented Jamie Branch.
In concert on stage, the Tigre des Platanes evokes this great loss.
All these tracks have been created since the arrival of Nathanaël Renoux in March 2020.