Tour
Le Tigre des Platanes -

Pannonica, Nantes (44)

17

Jan

-

Soirée Carte Blanche à Freddy Morezon

Le Tigre des Platanes -

Le Taquin, Toulouse

19

Apr

-

Release Party "Rhésus Machin"
Album release "Rhésus Machin" on the 19th of April 2024 with a release party in Le Taquin in Toulouse!
Listen
Live recording
Concert in the Ring - Scène Périphérique in Toulouse on the 16th of October 2022
Line-up
Marc Démereau : saxophones, keybord, voice
Nathanaël Renoux : trumpet
Fabien Duscombs : drums
Mathias Imbert : double bass
Le Tigre des Platanes
Rhésus Machin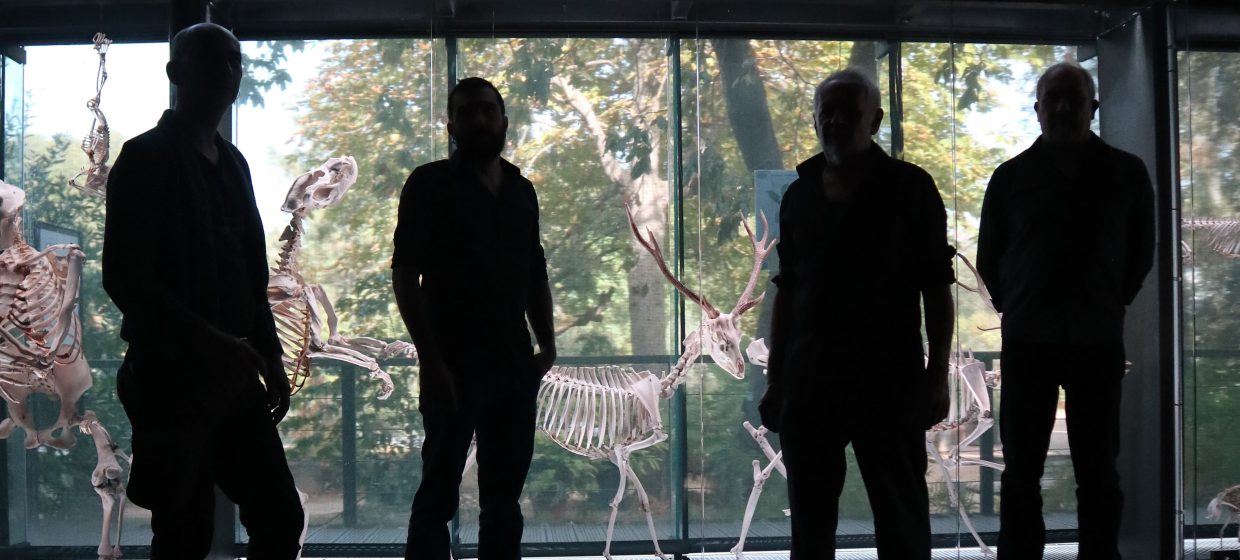 Rhésus Machin
L'apocalypse n'est jamais très loin dans l'univers du Tigre des Platanes. C'est ce qui donne à leur musique ce sentiment de l'urgence d'en découdre, d'un cri qui se fraierait un chemin parmi le bruit des bombes, un îlot d'irréductibles jouisseurs en conversation avec l'inaccessible complexité du monde qu'ils n'ont pas fini d'enguirlander.
Avec Rhésus Machin, l'indomptable animal siffle un jazz résolument punk. Si parfois, il le fait avec humour (l'animal est joueur), s'il sait aussi s'adonner aux caresses (l'animal est sentimental), il a d'abord l'âme d'un animal sauvage, et la composition, débarrassée de toute règle prédéfinie, mises à part quelques formules mathématiques pas encore résolues, est au service de ses quatre musiciens, comme les quatre points cardinaux d'une bête qui n'en fait qu'une bouchée, parce que l'animal est féroce, gourmand et vif.
Le répertoire actuel du Tigre des Platanes est en grande partie constitué de compositions personnelles et (très) originales (de Marc Démereau et de Mathias Imbert).
Quelques relectures se glissent dans cet opus, qui rendent hommage à la scène brûlante du jazz libre européen de années 70 (Misha Mengelberg, Willem Breuker), ou à des musicien-nes disparu-es récemment (Julee Cruise et Angelo Badalamenti).
Y manque un hommage enregistré à la très regrettée Jamie Branch.
En concert sur scène, le Tigre des Platanes évoque cette grande perte.
Tous ces morceaux ont été créés depuis l'arrivée, en mars 2020, de Nathanaël Renoux au sein du groupe.
Le Tigre des Platanes is an indestructible animal that has been roaring and exploring unlikely jungles for two decades. Their previous opus, Terminus Radioso (2021), is further proof of this.
Terminus Radioso
Having, in various ways, cultivated the re-reading of diverse - and often unjustly little-known - marvels from the 60s to the present day, through three constantly renewed repertoires, the second of which was essentially devoted to Ethiopian idioms, Le Tigre is back with a programme of original compositions. It's called 'Terminus Radioso', in reference to Antoine Volodine's marvellous post-exotic novel of the same name ('Terminus Radieux'). - It could also have been called "Le Cantique de l'Apocalypse joyeuse" (The Song of the Joyous Apocalypse), but we had to choose! - In any case, the title sets the tone. In the tradition of Le Tigre's music, it's energetic, joyful and free-spirited. And it's packed with references, often literary or cinematic, carefully suggested in concert, so that everyone, in their own way, can make their own film.
It's all about the post-apocalypse, mutant shamans, three-legged calves, sick crows and grandmothers who feed wrecked Soviet tractors to packed nuclear reactors sinking deep into the earth's crust. We also come across Charlie Chaplin, a few shipwrecked sailors and, incidentally, Ronald Shannon Jackson.
From wacky waltzes to resolutely rock turns, we can also have fun spotting a host of musical and jubilant references to musicians (like Tom Waits, Marc Ribot and many others...) to whom Le Tigre has always paid special tribute.